Why is digital marketing required in today's scenario?
The connection of businesses with ideal customers when they are on Google through SEO(Search engine optimisation) and PPC(Pay-Per-Click) . Digital marketing plays a valuable role in shaping of consumer behaviour and impact businesses positively in long run. Digital marketing is the way for brands to get a edge up on competition. Digital marketing presents test ad campaigns and reaches mobile users. Brand recognition is built with the presence of certain brands, it acts as a helping tool in building brand recognition. Brands develop trust with the audience with digital marketing as a tool providing businesses with additional sales channels. Like the business's blog for educational purposes, news, events of the brand, promotion of certain goods and its services. Ability of digital marketing is to help brands educate their customers and share information. It has the potential to improve other's lives. Giving brands a chance to present oneself to the doorsteps of people. Such is the power of digital marketing.
Every kind of business needs digital marketing as a platform to elevate itself and connect audience with potential brands at the right time. Another word for digital marketing is online marketing, it refers to marketing efforts occurring across the internet. There is connection with current and prospective customers through texts and is vital for brand awareness. The numerous digital tactics and channels to connect with customers spending much of their time online. The main purpose of digital marketing is helping reach a larger audience and targeting of prospective customers through advertisements enabling of success.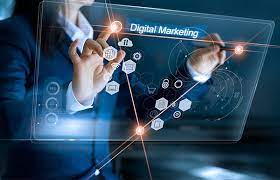 "We have technology, finally, that for the first time in human history allows people to really maintain rich connections with much larger numbers of people." – Pierre Omidyar
Market share improves and promotes companies and their ability to deliver goods to end users. Digital marketing is a broad field attracting customers via emails and content marketing. Traditionally companies focused on marketing through print media and television. These options still exist but with the rise of internet it has led to a shift in modes of advertisement. Search engines and apps provides a two way interaction between customers and company, while digital marketing acts as a tool between the two in connecting both. Social media platforms like Facebook and Instagram and Twitter has made tracking of consumer trends easy and thus easier for digital marketing teams to understand customers emotions and link that to come to their doorstep with the product. In a nutshell digital marketing is about telling ideas and ones unique stories to the world.
Klynus is a digital marketing platform that turn businesses ideas into reality. Our team of digital marketing has proven to be well versed with every work till now, with happy clients every time. We resonate with businesses and SME's in standing out among the crowd in giving a perfect brand identity and attract investors. We assure you with our valued reputation of more than 10 years that we value your ideas about a perfect website and build one for you.